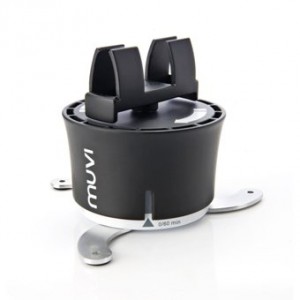 British electronics & accessories maker, Veho, has a neat gadget called the Muvi X-Lapse that allows you to take panoramic time-lapse photos. I had a chance to test one out courtesy of accessories seller, MobileFun.
The X-Lapse itself is a fairly small, circular gadget that you can hold easily in one hand. By holding, the bottom white portion with the time markers, you can twist the upper black portion until you get to the amount of time and coincidentally the # of degrees of panorama you'd like to shoot. It's hard-coded, so to speak, to go 360° in 1 hour, and similarly, 180° in 30 minutes, etc.
Once you set the time/angle and let go, the X-Lapse starts slowly rotating back to its starting position while ticking furiously like an old, angry alarm clock. I found this a bit distracting and annoying, but in the scheme of things, minor.
I tested it out with my smartphone. The X-Lapse comes with a bracket for smartphones that has some give, so it can accommodate thicker ones. Due to the way it's constructed, you'll have to check the angle on the phone, as you can angle it a few degrees from the vertical. As I tried some shots from the ground, I was wishing that it came with a better mechanism to angle my phone's camera upwards.
If you would rather use an actual camera that has a standard ¼" female screw threads, you can unscrew the smartphone mount to uncover the screw. Another option is to screw the whole X-Lapse onto a tripod. Those are nice touches for the more serious photographer. Additionally, if your camera is a bit heavy or unevenly weighted, you can flip out three stabilizing feet.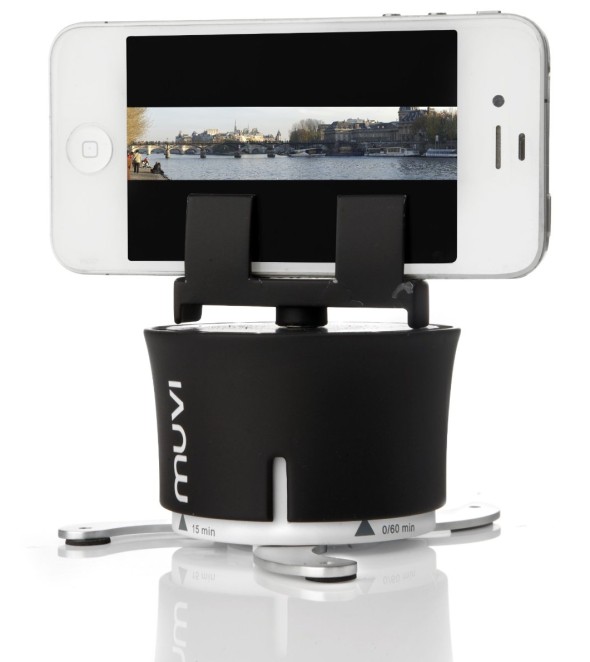 The X-Lapse does not come with any software to stitch together your photos into a time-lapse video, but a quick search online will turn up lots of freebies to do it in quickly and easily. If you're using a smartphone, there are also lots of apps to do the same thing. I used an Android app called Lapse It that did the trick.
So yes, it did what it was supposed to. I did find the list price a little pricey at about $45 (Amazon) for such a one-trick pony, but MobileFun has it at a much better price point of $26.49. I also would have liked more options in terms of how long it took to perform the rotation; one hour for a full circle seemed too long for me, an amateur photo-taker.
All in all though, it seems like a well-built product, so if you'd like to shoot some nice panoramic time lapse videos with spending some serious money, check out the Muvi X-Lapse.
Thanks to MobileFun for sending us the X-Lapse. They wanted us to point that they particularly like their collection of Galaxy Note 2 accessories. 😉
(Disclaimer: Gizmos for Geeks received a complimentary review copy of this product.)