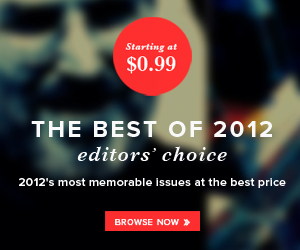 The good folks at Zinio have teamed up with us to offer 10 free electronic magazine subscriptions to our readers. So what we're going to do is run this as a contest where we'll randomly pick 10 lucky winners at the end of the entry period.
In case you've been living under a rock for about 10 years now, Zinio is the premier publisher of electronic magazines, as well as books and other docs. They have gorgeous apps for your smartphone, tablet and desktop computer. We featured them as far back as 2004!
For an idea of what Zinio offers, hit the link (or the image) to the right. Do check out their Editors' Choices for the best of 2012, or if you can't wait, take a look at the titles on sale now for 50% off.
Hit the jump to find out how easy it is to enter…
Entering is simple:
1. just talk about this contest somewhere – Facebook, Twitter, Google+, your own blog, etc. with a link back to this post. Here's a nice short link for ya: http://wp.me/pUvFe-31T
2. Then leave a comment with a link back to your post. Be sure to include your real email address so we can contact you if you win!
We'll run this contest until Thursday 21 February 2013 at 11:59 Eastern Time, then we'll randomly draw 10 winners!
Please do read our contest and giveaway rules (yep, the lawyers make us include these!). The best part of this contest is that it's available to anyone anywhere in the world. If you win, you'll need to tell us your first and last name, your email address and the title of the magazine you'd like.
Be sure to follow us on Facebook, https://www.facebook.com/GizmosforGeeks, and on Twitter, @gizmosforgeeks.
And last but not least, a big thank you to Zinio for sponsoring this giveaway!