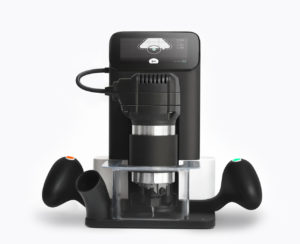 Hey woodworking geeks, salivate over this hand-held CNC. It's called the Origin, and it can work at any scale down to some very intricate pieces. Even better, its computer brain and robot innards corrects for your mistakes.
Other niceties: display so you can see what your cutting below, a touch-screen, a variable speed router, z-axis settings, dust extraction, and even cloud connectivity to transfer and share your designs.

Check out the video:
Still available for pre-order at $1699 before it goes up to $2099 retail.