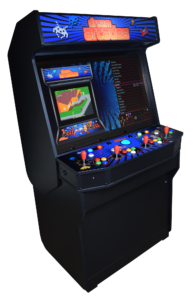 We've covered MAME in gadgets and stories before, and honestly, who gets tried of these fantastic arcade consoles that play dozens, hundreds or even thousands of games? Not us!
Here's one from Dream Arcades that plays over 150 games 'out of the box', has a giant 40″ screen and more controls than you can shake a … well, control, at!
This console/cabinet lets 4 players play at once, and includes controls like buttons, joysticks and even a trackball. There are quite a few upgrades you can have added on including a wireless networking adapter, a larger trackball and even artwork for the side.
But the best feature is that you can buy and play additional game packs. Options include Activision & Namco classics, Street Fighter, Sega Genesis games, Angry Birds, even a Golden Tee pack.
Dream Arcades makes a few of these consoles, including a tabletop version. This would make a great Father's Day or Mother's Day or anyday gift.
Buy now!
More info from the manufacturer
Price: $3099
(Please note prices are subject to change and the listed price is correct to the best of our knowledge at the time of posting)