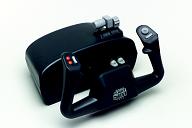 Our next Flight Sim gadget is actually a set of gadgets from CH Products. Today we look at the CH Products Flight Yoke, Multi Engine Throttle Quadrant, and Rudder Pedals. Whether you like to fly a Cesna or a multi-engine Jumbo Jet, you just can't feel like you're really flying without realistic controls, and CH comes through with their lineup. While there are certainly other companies making flight yoke controllers and rudder pedals, few are as affordable or as feature packed as CH's offerings.
The Yoke
CH's Yoke controller is modeled after the ones found in typical general aviation aircraft with contoured molded grips for both hands, and an assortment of buttons. Also included are 3 levers that can be used to control throttle, prop pitch and fuel mixture (although flight simulator will let you remap these to whatever you want.) You also get a Hat switch (by default used for switching views), elevator and rudder trim controls, 2 trigger buttons, 2 thumb buttons, as well as 2 2-way switches. As stated, all of these controls can be mapped to whatever function you want directly inside of Flight Simulator, but if you happen to be using the control for some other game, CH includes a point and click programming interface for changing the functionality (this software works with all of their products.) In short, you get everything you need to do the basic flight controls right at your fingertips. As the core unit of the CH lineup, the yoke controller does a great job of providing an immersive feeling to flight simming. If you can only afford one item in this lineup, and you fly mainly single engine aircraft, the Flight Yoke should be your choice.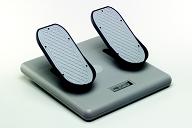 The Rudder Pedals
Being able to control the rudder is essential if you demand absolute realism in your flight sim experience. While some controllers (such as the MS Sidewinder series of joysticks) integrate a twisting motion of the stick to control the rudder, the geeks have found in the past that these controllers are just too twitchy, and they tend to overload the user in trying to do too much with your hands. The CH Rudder pedals provide a nice foot controlled rudder action, complete with toe-brake capability. This allows for features such as differential breaking (very important on some aircraft) and a much more realistic braking feel… Nothing gets your heart pumping like trying to land a big 777 at a small-ish runway and slamming your feet down on the brakes while you yell "Come on you big hunk of junk… STOP!!!!" CH also includes a set of inserts that you can use to immobilize the motion of the rudder pedals so the pedals can be used as a gas/brake combination for racing games. We guess this could be useful, although most racing wheels on the market include their own pedals. The geeks feel that this should be the second item on your "to purchase" list.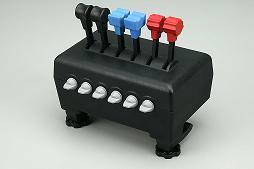 The Multi Engine Throttle Quadrant
So, you're tired of flying single engine planes and want to graduate up to the "big iron" heavies? While the levers on the CH Yoke work fine, they really are set up for single engine aircraft. Sometimes with multi-engine planes you want to control the engines independently. That's where the Multi Engine Throttle Quad comes in. This add on unit provides you with 6 fully programmable levers, 6 2-way switches, and a pair of replacement lever tops. With the replacement tops, you can change between a 2 engine (2 throttle, 2 mixture, 2 pitch), 3 engine (3 throttle, 3 mixture or pitch), and 4 engine (4 throttle, 2 either mixture or pitch) setups, with matching handle tops. The range of motion on the levers includes an idle detent about a 1/4 inch above the bottom so you can set up for thrust reversers. Like the yoke, the 6 switches can be programmed either within Flight Simulator directly or via the CH software. You can even use the 6 levers of the throttle quad in conjunction with the 3 levers on the yoke, provided you set them up for different functions.
What We Think
The geeks have spent the last two months putting these units through their paces. We have to admit, if you're into flight simming, and fly a lot of GA or Airliners, there's a LOT to like here (the yoke doesn't really feel as accurate when flying jet fighter planes or helicopters. CH makes a pair of compatible controllers for those as well though.) The units are very well built with heavy plastic used throughout. The units feel very durable, with good responsiveness on all buttons, switches, levers and motions. Adding these units really has improved our flight sim experiences. You really feel like you're controlling a big multi engine commercial airliner with these units.
That's not to say we don't have a few gripes. The yoke uses a set of springs internally to center the controls. The problem with this is that the farther you move from center, the stronger the pull back to center is, which is fine, but this means that at the middle position, there's not much pulling the yoke to the middle. This can make trimming your aircraft a pain because the yoke doesn't pull back to exactly the same in/out position every time. In reality, it's not a huge problem, but it is noticeable. We also wish CH had included force feedback capabilities. The rudder pedals, while certainly well made and heavy, tend to slide around on carpeted floor. If you can't hard-mount the unit then we recommend picking up some sticky back velcro and attaching it to the bottom of the unit to help hold it in position on the carpet. Finally, the yoke and throttle quad use a bracket system to mount them to a table or desk, holding them in place. While this works great, and makes it easy to mount/unmount the units from your desk (which you'll want to do if you use the computer for other things because the yoke really gets in your way otherwise), if you have a thin tabletop (forget glass tables!) you're in trouble. The geeks have a desktop that is 1/2" thick and that's not thick enough for the bracket to grab onto. We've had to put another shelve onto the desktop to double the thickness so the brackets can take hold whenever simming. This isn't exactly an ideal situation, but it works. Alternatively, some good heavy sticky-back velcro would do the job, provided you don't mind having that on your desk.
Our other gripe is with the CH programming software. The geeks have had their share of these kinds of programmable joysticks in the past (namely some Thrustmaster products, and the Belkin Nostromo units). We have to admit that we're totally stumped on how to use the CH software! It's rather non-intuitive. While we're sure we could figure it out given time and a little manual reading (geek foul!!!) we don't feel this sort of thing should be as obfuscated as CH has made it. Thankfully, since the units are all recognized by Flight Sim directly and can be programmed directly in Flight Sim, you don't really need to use the CH software.
Final Thoughts
So, what do we think? If you're serious about flight simming but you're on a budget, the CH products are the way to go. We found each of these units for $135 or less at newegg.com (the Throttle Quad is a bit pricey since it's brand new to the market.) The units are all solidly built and come with a 2-year warranty which is nice. The feel of the units is solid, and we have no doubt that we're going to get multiple years of use out of them. While there are a few tweaks we'd like to see done, these are all minor and can be worked around. Are they perfectly realistic? No. But authentic controls that can be found on the market typically run 5-10x the cost of the CH units. There are other products out there in the CH price range, (namely the Saitek units) but these look horribly non-authentic.
Overall

In the end, we give the CH Products Yoke, Rudder Pedals and Multi Engine Throttle Quad a 4 out of 5. If you're serious about flying general aviation or airliners, you need these units. Just make sure your desk will work with them!