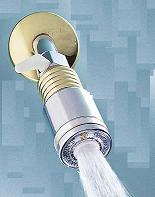 Are you tired of slow, low-flow, take-forever-to-rinse showers caused by a low-pressure system or your water-saving showerhead ' or both? Now you can be "green" — reducing the volume and cost of water for your showers by up to 70% — yet still enjoy an invigorating, refreshing full-spray shower!
Simply replace your current showerhead with Resort Spa® — the world's first self-pressurizing shower fixture that uses patented fluidic technology to generate a full-power spray…even with water pressure as low as 20 psi. It's elegant, simple design requires no moving parts.
It resists corrosion and scale buildup and has a lifetime guarantee to never clog or fail. Crafted of brass with chrome accents and 24K gold plating.
Features:
Enjoy an invigorating, full-spray shower!
Overcomes the problem of a low-pressure system.
Resists corrosion and scale buildup. Won't clog or fail.
Brass with chrome accents and 24K gold plating.
Also comes in a hand-held model.
Price: $29.95
(Please note prices are subject to change and the listed price is correct to the best of our knowledge at the time of posting)