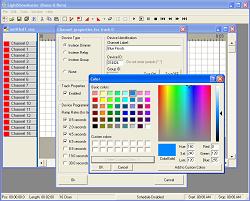 Shoot, we're so sorry we didn't post this sooner. For you Home Automation and INSTEON fans out there, there is a free piece of software from JLTSoft that lets you create animated light shows using INSTEON to control lights. It's not too late to get in on this action, as Smarthome is offering a $20 coupon for anyone purchasing an INSTEON Starter Kit. But back to the software. It's called the Light Show Master and it runs on Windows. It's currently in beta but already looks pretty slick and the best part – it's free!
The Light Show Master (or LSM) can synchronize your light show to music as well, and judging by the screenshots has tons of functionality, including being able to turn lights on or off, fade them on or off using any of 7 speeds. You can specify what days and times you want your shows to run, and you can splice multiple sequences together. Just head over to the JLT website to download.
Oh yes, here's the info for that $20 off: just head over to Smarthome, and enter this coupon code at checkout: EHSAVE20. And as another side note, Smarthome is running a 12 Days of Holiday Savings. Sounds familiar, doesn't it? 😉
Update Feb 1, 2011: Unfortunately, JLTSoft has decided to discontinue their Light Show Master product. But you are not without options. For example, you could get the Indigo 4 Pro Home Automation software ($179.99) which lets you control both INSTEON and X10 products via your computer or iPhone/iPod Touch via the Internet.
Buy now!
Price: FREE
(Please note prices are subject to change and the listed price is correct to the best of our knowledge at the time of posting)