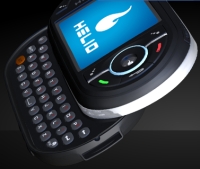 Helio announced their latest phone, the Ocean, last week and based on the features list, it promises to be one hell of an addition to the smartphone offerings out there. It already has lots of standard Helio features like GPS with Google Maps, and a music store, but it has a bunch of new stuff like Instant Messages, text messages, picture messages and email from all the major portals, ISPs and even corporate Exchange servers all at the speed of 3G.
Stuff all of those features into a slick dual-slider handset that has both a traditional numeric keypad and a full QWERTY keyboard and Helio may have a winner on its hands.
Take a look at the feature list in the press release or on the Helio website – there is just too many things to cover in this blog entry. I'm glad to see another cell service provider out there competing with the usual big wigs. Granted they are an MVNO, but still.
Oh yes, the Ocean will be available sometime in Spring this year for $295 with a 2-year plan.