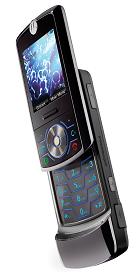 I spoke to Motorola today about their next upcoming Linux/Java-based handset, the Motorizer Z6. This was good news… sorta. I was really interested in finding out how extensible and tweakable their JUIX OS was. Unfortunately, not so much. There's no API and no real access to the underlying OS.
But the rep I spoke with assured me that that was indeed the goal for the future. They'd like to get the Linux coding community involved and hacking away at the OS to develop new apps and functions for the phone. Here's hoping…
Oh yes, it won't be available until the middle of the year, but it'll be available globally. Other stats: microSD card slot (up to 2GB), slider design, 2.5G, 2 Megapixel photo/video camera, and plays a bunch of song formats.