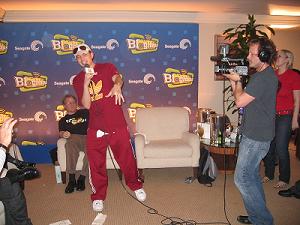 The Bloghaus party in the Bellagio Hotel on the last night of CES 2007 was the place to be for all bloggers, podcasters and vloggers at CES… even the guys from Neuros Technology snuck in the door before admission to the suite had to be shutdown because it was too crowded. Hosted by Podtech's Robert Scoble, free food and booze were flowing as fast as the dedicated T1 line in the suite.
While we went to hang out and meet some other bloggers we were presently surprised that a couple Nerdy South Records artists performed some nerdcore hip hop. What's nerdcore hip hop? The nerd rappers rap about the nerd lifestyle such as checking email, sending spam and writing code. Their rhymes about math, computer technology and video games absolutely brought the house down! You have to check out some of their songs on Nerdy South Records.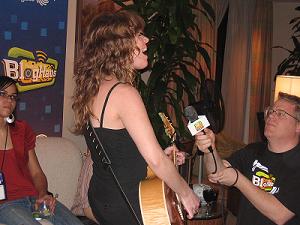 A little while later Samantha Murphy showed up with her guitar and performed "Come back to you" to the absolutely entranced the crowd. After performing she mentioned how much she "gets" the new generation of media including blogger, vloggers and podcasters. The Geeks really enjoyed her music and found another artist to follow for sure.
In addition to the excellent entertainment some networking was done as we ran across some fellow bloggers we know and the Neuros guys. We also introduced ourselves to some of the folks at Jet Set Show. I had seen some of videos before and recognized their faces apparently from that. That night when we got back to the room we checked out their site and lost a couple hours of productive writing watching their entertaining videos (my favorite is probably the current entry of new year's report: top ten list addiction).
The Bloghaus was open 24/7 throughout most of CES and included a gaming room with various gaming stations including an Xbox 306, PS3, Wii and other PC games. Internet access was plenty with a dedicated T1 to the suite with wired and wireless connectivity. The Bloghaus was sponsored and presented by Seagate and PodTech and "the Geeks" hope that next year PodTech hosts the second annual CES Bloghaus!