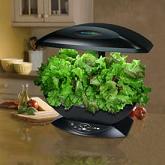 I like this Gizmo of the Day for a couple of reasons.
The first reason is because it reminds me of a trip I took as a kid. I learned about hydroponics at Epcot Center's Land Exhibit in Orlando. Hydroponics provides many advantages over traditional farming. For one, fewer pesticides are needed. Also, hydroponics requires less water than plants being grown in soil. Plants grown hydroponically can grow five times as fast as traditional methods. Crazy enough, growing plants actually held the attention of a young gizmateer!
Secondly, with the E. coli incident recently, I'm not too keen on eating greens. I know, the E. coli incident only deals with spinach but other leafy vegetables could easily be infected in the same way as the infected spinach was. With that in mind, I'd prefer to know where my leafy greens come from! Also, hydroponically grown plants are not contaminated with soil or soil borne diseases.
Have you avoided trying to grow your own vegetables because you just don't have a green thumb? Growing fresh vegetables at home not only saves money, it also ensures that your greens will be as fresh and nutritious as possible, and you no longer need to kneel in dirt to entice the greenery from the earth. The AeroGarden lets you grow organic-based plants inside your home at any time of the year. This kit comes with everything you'll need to get started, including a salad greens seed kit that can grow up to 75 salads' worth of mixed lettuces! Best of all, using this hydroponics system, you'll have a guaranteed harvest in 28 days, up to 5 times faster than soil-grown lettuces (at $5 for an organic salad, it would cost up to $375.00 to buy these at the store).
Price: $149.99
(Please note prices are subject to change and the listed price is correct to the best of our knowledge at the time of posting)