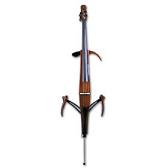 My brother plays cello. He's rather good now, but when we were growing up there were times I thought perhaps he was a serial cat killer. Anyway, if your kid decides to pick up an instrument, I suggest getting two… an analog and digital version.
This digital cello folds up nicely, something you don't want to do with an acoustic cello. Also, the gizmo comes with headphone jacks and line outs so you can either silence the practice or plug into a PA or external audio system to perform. The Geeks also think it looks pretty cool.
The Yamaha SVC-200 Silent Cello provides cellists of all levels with the experience of playing in the sonically rich environment of a concert hall – while also offering the advantage of being able to play or practice anytime, or anywhere!
Price: $1975.00
(Please note prices are subject to change and the listed price is correct to the best of our knowledge at the time of posting)