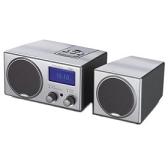 ealize the full potential of high-definition digital radio technology with the Boston Acoustics Receptor Radio HD, an AM/FM clock radio that delivers brilliant CD-quality sound. The next-generation tabletop device not only radically upgrades the performance of traditional analog AM/FM signals, but also receives digital broadcasts and their associated wireless data services over existing AM/FM radio bands. The result is spectacularly brilliant clarity, fidelity, and room-filling sound never before heard on any radio of any size.
Digital HD radio broadcasting represents a revolution in radio listening by ushering in a boundless array of entertainment and information possibilities. Across the country, AM and FM radio stations are upgrading to digital HD Radio broadcasting, which enhances both the sound and the programming options. Some stations are broadcasting data over traditional AM/FM bands, including song titles, artist info, weather and traffic updates, and more, while others are broadcasting digital "multicast" channels with alternative programming. The Receptor Radio HD sorts it all out to bring you your favorite current programming, the expanded listening choices, and the song and weather data–all without requiring a subscription.
The Recepter Radio HD's impressive audio performance stems from Boston Acoustics' years of experience in designing and manufacturing high-performance audio equipment. The key to the radio's topnotch sound is its Boston-designed wide-range driver, which is optimized specifically for the radio, and its digitally equalized amplifier outfitted with proprietary BassTrac circuitry for full, satisfying, distortion-free bass regardless of the volume level. The audio performance is coupled with the radio's AM/FM tuner and its 20 easy-to-access station presets. The digital technology even enhances the AM and FM bands' audio fidelity–AM sounds more like FM does today, while FM signals boast a CD-like quality. Best of all, the static, hiss, pops, and fades commonly found on today's radios are virtually eliminated, ensuring crystal-clear reception.
Adding to the radio's value are a host of other features that add to your convenience and enjoyment. The iPod/MP3 player port, for instance, invites you to share your favorite tunes over the Receptor Radio HD's high-quality stereo speakers. Meanwhile, the headphone jack lets you listen to digital HD radio privately so you don't disturb others. You can also adjust the tuning, volume, and station presets either manually or with the credit-card-sized remote control. Additional features include a sleep timer that lets you fall asleep to music; two independent alarms for waking to music, a beeper, or both; and a power backup that stores presets and alarm settings should a power failure occur.
The Receptor Radio HD measures 7.62 by 4.38 by 6.75 inches (W x H x D), while the included second speaker checks in at 4.38 by 4.38 by 6 inches. The entire system is also backed by a one-year warranty on parts and labor.
Price: $299.00
(Please note prices are subject to change and the listed price is correct to the best of our knowledge at the time of posting)