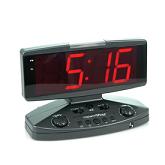 Using an alarm clock to wake up can be more difficult than it sounds for many people. Those with hearing difficulties may not be able to hear a standard alarm clock, and early risers may not want to wake their spouses. The Wake & Shake Alarm Clock is a smart alternative that lets you select one of four different alarm options that can help you to rise without bothering the person next to you. Choose from combinations of adjustable sound, flashing lights, and a vibrating pad that shakes you awake at the time you set your alarm to go off. You can even connect this system to your phone to be shaken awake for an early morning call (this feature requires a dual phone jack adapter, which is sold separately).
Wake Up in One of Four Ways
Put the shaker under your pillow or mattress to be alerted silently when the phone rings or the alarm goes off. Select the wake-up option that works best for your needs: the shaker, shaker plus sound, flashing lights plus sound, or shaker plus flash. The tone is adjustable in volume up to 95dB as well as in pitch, which is important to those with hearing losses, as certain tones may be difficult to hear.
Telephone Ringing Specifications
When your Wake & Shake Alarm Clock alerts you there is an incoming call, simply answer the phone to stop the alarm. The Wake & Shake distinguishes between the clock alarm and telephone ring alarm by using different patterns to alert you.
Battery Backup Available for Assured Waking in Power Outages
The Wake & Shake Alarm Clock is powered by the included power adapter, but you can also install a 9-volt battery (sold separately) to provide backup power in case of a power outage.
Additional Features
Adjust the brightness of the easy-to-read 2-inch display to your satisfaction. You can also adjust the strength of the bed shaker from low to high. Additional features include a snooze key.
Price: $59.99
(Please note prices are subject to change and the listed price is correct to the best of our knowledge at the time of posting)