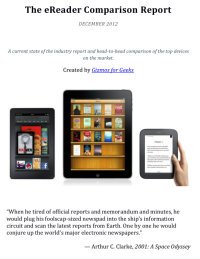 The eReader market has changed dramatically in the past 2 years with most vendors like Amazon.com, Barnes & Noble and Kobo offering full-color, full featured tablets in the vein of the iPad. During that time too, E Ink readers have tacked on the features, with most now featuring E Ink Pearl technology, backlights, and more.
We've updated our eReader Comparison Report, and it's yours free. All you need to do is sign up below. If you're already a loyal subscriber, don't worry, you'll get your own personal note telling you where you can download it.
If you haven't seen our report, it not only gives you the rundown on what the top devices and their specs are, but it also includes the Apple iPad and iPad Mini, and gives you a 'cheatsheet' for picking an eReader based on your needs and main interests.
Don't want to sign up? Buy it instead!