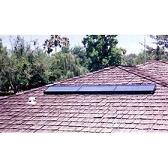 Harness the power of the sun with this Solar Water Heating System. By installing this, you even qualify for a 30% Federal Tax Credit! The Fireball system gives you the opportunity to recoup costs quicker than any other alternative energy upgrade you can do around your house.
One of the most used and therefore most expensive home appliance is the water heater. By installing this system you can switch off the electricity and gas from your water heater and really lower those bills!
Solar water heating has always been the best way to get the most solar energy for the least cost. Your water heater is probably the most expensive appliance in your home. The Fireball system gives you the opportunity to make a valuable improvement to your property that pays you back at a rate greater than virtually any other safe investment.
It is a powerful solar collector with a premium black crystal copper absorber. The all aluminum frame is attractive and beautifully designed. The unbreakable Polycarbonate cover is much lighter and safer than glass, and features a ten year warranty.
The Fireball series of open and closed loop Solar Water Heating Systems are designed first and foremost to save you money, year after year so quality and value are built in. This great open loop system features attractive appearance, light weight, easier to install, highly reliable, light freeze protection, 20,000 peak Btu or 1,000 watt equivalent. It can be connected to an existing or added 50-gallon water heater. (Tank not included)
The "Fireball 2001″solar water heating systems are for residential or small commercial domestic water heating applications on unshaded southerly facing sloped roofs. These systems are significantly easier to install and more attractive than previous units and can be installed on most all types of roofs. Handyman skills and tools are required for installation. Normally, these installations require no soldering. These special Builderdepot kits include all materials except high temp insulation needed to do the solar loop installation with up to a 20 foot pipe run from the collector to the storage tank. For ease of installation, the collector feed and return lines are from one end. Upon ordering, we will contact you for any special needs and color options (Musket Brown is standard). Use our toll free installation.
Price: $2308.00
(Please note prices are subject to change and the listed price is correct to the best of our knowledge at the time of posting)