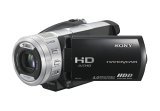 Where have you been all my life Sony HDR-SR1? Oh yeah, waiting for technology to catch up with my vision of a hard drive based camcorder that records in high-definition. You can also record in standard-definition, but why would you do that?
The HDR-SR1 uses a 2.1MP ClearVid CMOS Sensor requiring much less power than the traditional CCD imagers. Also, using a Carl Zeiss Vario-Sonnar T* lens resulting in vivid image brilliance, true-to-left color saturation and perfect renditions of subtle tones. The T coating also reduces unwanted glare and flare.
Including a 16:9, 3.5 inch touch-panel LCD display, the camcorder features smooth slow recording and records audio in Dolby Digital 5.1. This gizmo is hot!
Boasting a generous 3.5″ Wide 16:9 Hybrid Touch Panel Clear Photo LCD screen and multiple connectivity options, you'll have complete control from capture to cut. For the first time ever, you can record high-definition video directly to a Hard Disk Drive (HDD) with the HDR-SR1 Handycam(R) camcorder. In addition, the dual HD/SD format allows you to record in standard definition as well. You will also be able to freeze time in flawless detail with a 4.0 Megapixel still capture feature to the HDD or Memory Stick(R) Duo Media. Easy transfer of all images to PC Digital Still Memory Mode with Memory Stick(R) Duo Media for still images up to 2304×1728 (4 – 3) resolution Super SteadyShot(R) Image Stabilization System / Super NightShot(R) mode On Screen Zoom and Record using LCD touchpanel Progressive Shutter System Active Interface Shoe provides a location directly on the camcorder on which to add optional accessories while providing power and two-way communication USB 2.0 Interface provides an easy way to connect your Hard Disk Handycam(R) camcorder to the computer for fast trasfer of video and still images to your computer for archiving and/or editing Video Format(s) Supported – AVCHD (HD), MPEG2-PS (SD) and JPEG Unit Measurements – 3 1/14 x 3 4/13 x 6 1/2 (78 x 84 x 165mm) / Unit Weighs 1 lb 9 ounces Supplied Accessories – Power Adapter/In-Camera Charger (AC-L15); InfoLithium(R) Rechargeable Battery (NP-FM50); Remote Commander(R) Remote Control (RMT-835); Component Video Cable; A/V Cable (Stereo); Application CD-ROM w/ Driver; USB Cable
Price: $1499.99
(Please note prices are subject to change and the listed price is correct to the best of our knowledge at the time of posting)