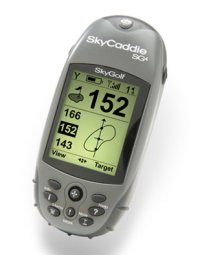 The SkyCaddie (which we featured last year) has an updated version that looks pretty slick. It's the SkyCaddie GPS SG4, and for a mere $350, you can use this device to help you determine your yardage to the green, so you can pick the right club, etc. and have something to brag about back at the clubhouse. The screen on the SG4 is larger than on the original, it stores 10 courses, and you can plug in an optional SD card for even more storage. USB connect it to your computer to download course data. An optional membership at skygolf.com lets you access course data on thousands of golf courses.
Features:
Determines your yardage to the green (and to other targets) on any course you play!
Measures how far you are hitting each club.
Automatically calculates distances to 40 targets per hole simultaneously in less than a second.
Stores 10 courses; use the SD memory-card slot for additional storage.
Comes with a USB cable for downloading course data files; access SkyCourse data on thousands of golf courses at skygolf.com (requires an annual membership fee).
Runs on a 12-hour built-in lithium-ion rechargeable battery.
Price: $349.99
(Please note prices are subject to change and the listed price is correct to the best of our knowledge at the time of posting)