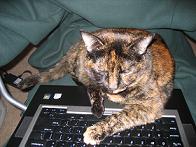 Gary Clegg, the creator of the Slanket sent us one for review. The Slanket is basically a blanket with sleeves allowing your hands access to various objects such as a laptop, reading material, remote control, etc… The Geeks usually do not review non-gadgety items, but we made an exception for the Slanket as we saw this product as an enabler for gadgets. Read on to see our first review of fleece…
So what exactly is the Slanket? Well, as mentioned above the Slanket is simply a blanket with sleeves. The blanket is made of fleece and is very well made. The fleece material is both soft and comfy. While "soft and comfy" fleece might describe most blankets, the Slanket's oversized sleeves are pure genius.
Until the Slanket, there were really only two ways to use your hands while blanketed. First you could fold the blanket down allowing you can use your hands. The upper part of your body gets cold though. Secondly you can stick your hands out the sides of the blanket. This too allows cold air to penetrate into the blanket and your hands have limited mobility.
The Slanket solves the problem of hand useability and mobility while not compromising the integrity of the warmth generated under the blanket.
Both Chief Gadgeteer and I tried the Slanket as well as several other friends, my wife and my kitty. The Slanket was tested with several activities including using a laptop, watching and controlling TV, reading various reading materials and sleeping. While it seems Asia, my kitty, enjoys the Slanket the most, everyone absolutely loved the Slanket.
The only thing that could be improved with the product is availability! I had planned on purchasing three Slankets for Christmas. I unfortunately took too long to work on my Christmas shopping and now the Slankets will not be shipped until December 30th.
You can order the Slanket from the Slanket web site.
Overall

This product is the next evolutionary step in blankets. The Geeks have only one word to describe the Slanket…. "BRILLIANT!"