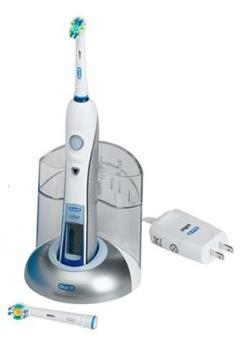 Buy Now!
Here's my in-depth review of my latest gadget acquisition: an Oral-B Triumph 9400 electric power toothbrush, as well as my research leading up to my final choice. The time had come to replace my first electric toothbrush, a first generation sonic toothbrush, the Cybersonic, and I knew the replacement had to be a sonic or similarly powerful electric toothbrush.
My minimum requirements for the new toothbrush were: quad timer (an alert every 30 seconds telling you to switch to a different quadrant in your mouth), a decent warranty, sonic or similar technology that pulsates the bristles at high frequencies, rechargeable, and a battery life indicator gauge. I also considered to a lesser degree: the price (I was willing to spend up to $150), whether it had multiple speeds, and a travel case.
I narrowed my vendor choices down to the 2 major power toothbrush makers: Sonicare (a Philips brand) and Oral-B (a Gillette brand). Although I had previously owned a Cybersonic model, I eliminated them as a quick comparative scan showed that their latest model choice did not meet all of my minimum requirements.
My research started off on the websites of Sonicare and Oral-B where I quickly narrowed my choices down to Sonicare's Elite 9500 (flagship model), Elite 7300, and Essence 35500; and Oral-B's Triumph 9400. I briefly considered Oral-B's ProCare 8000, but it did not have a quad timer and was the same price as the 9400. Incidentally, both companies have previously made quite a number of models that are still being sold, but I decided to stick the current models only.
I then decided to toss out the Sonicare e5500 and Elite 7300 as they did not have multiple speeds and were near the $100 mark anyway. I also eliminated the Oral-B Sonic Complete models as they were not as feature-rich as the Oral-B 9000 line and also in the $100 area. Now down to 2 models, the Oral-B 9400 ($100) and the Sonicare 9500 ($120), I turned to the Web again to read up on other users' experiences. I discovered that the Sonicare line has had some battery life issues and that customer service has also had some questionable moments. However, I was still torn – do I get the Sonicare model that sported the sonic technology or the Oral-B model that didn't? I checked and although not explicitly a sonic brush, the Oral-B 9400 pulsates (the brushhead moves in-and-out) at 40,000 times per minute and side to side at 8,800 times per min. The Sonicare 9500 produces 31,000 bristle sweeps per minute. Advantage Oral-B. I also thought it advantageous that the Oral-B also moved the brushhead side to side. Of course, clinical research may not bear this out, but it certainly seems to make sense to me!
Replacement brush heads for the Oral-B power toothbrush were also marginally cheaper than those for the Sonicare. The flagship Sonicare model was also $20 more than the Oral-B 9400.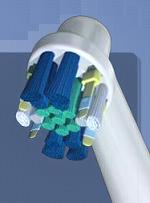 As of this writing, I've now had my Oral-B professional toothbrush for over 3 weeks and I love it. [Update Nov 2009: I've now had this toothbrush over 3 years and not a single issue!] There is no question that my teeth feel cleaner – more so than with my Cybersonic, which was in turn a huge improvement over manual brushing. Some folks and even the manual warn of possible bleeding of the gums when you first start using it, but I simply used the 'Soft' mode for the first few days and voila – no bleeding. Speaking of modes, the 9400 also has 'Polish' and 'Massage' modes. I am yet to try those out, but will add comments to this article if I do. I am including a picture of the main brush head, which is stylized, but extremely close to what it really looks like. You can see that it has multiple types of bristles which accomplish different functions. It's also worth it to take a look at the Flash demo on Oral-B's website.
The travel case turned out to be a really useful feature, and the charger itself can be undocked from the rest of the stand/brush head holder for easy transport. The toothbrush itself feels solid in your hand, but not too heavy or unwieldy. Battery life is rated at approximately 2 weeks. That is assuming only 2 minute brushings, so if you're like me and brush longer, then you may be down to fewer days between recharging, but even 1 week between charges is great.
The cue to switch quadrants is a very obvious sequence of rapid brush speed changes, not a beep that some folks have complained is hard to hear on some other toothbrush models. The motor, while certainly not quiet, is not obnoxiously loud and does not vibrate too much; I will gladly take a bit of noise in exchange for having clean teeth. Incidentally, if you're still waffling over whether to get a powered toothbrush of any kind, just try cleaning behind your teeth effectively with a manual one.
In case you're thinking that $100 is a lot to spend on a toothbrush, consider this: if it lasts 3 years, and you also spend $60 in replacement brush heads during that time, you will have spent about $4 a month for clean teeth and potentially saved a great deal of time in a dentist's chair and money in dental bills (insurance notwithstanding). [Update Oct 2016: My Oral-B 9400 finally gave up the ghost. It lasted just over 10 years! That works out to ~$0.83/month – not bad if you ask me.]
What's Groovy and What's Sucky
What's Groovy: Clean teeth! Quad timer, rechargeable, LCD display, small brushhead that is small enough to clean behind your teeth.
What's Sucky: Probably a bit more than most people think to spend on a toothbrush or for that matter the replacement brushheads, but well worth the money.
Features
Performance
Quality
Value
Great collection of features, including as mentioned, the quad timer, it's rechargeable, travel case, LCD display, multiple modes and more.
The main thing this need to do is clean my teeth well and my teeth definitely feel cleaner.
So far, so good. The unit feels solid and sturdy and one nice feature not mentioned above is that it's electrically neutral, so you can rinse if off under running water.
Since some folks are going to disagree that $100 is ok to spend on a toothbrush, I'll give the Value Rating a 4, but I really think it's worth it to have good oral health.
Overall
Obviously, I really like this product, and recommend it highly. However, if you don't like this model or even this brand, I still encourage you to go out and snag yourself a powered toothbrush of some kind if you don't already have one.
You can pick up the 9400 or other Oral-B Triumph toothbrushes at Amazon.com. [Keep in mind that Oral-B has not done a great job with their model numbering. The package I picked up had a model # of Oral-B Triumph 9400. However, you can get other combination packages that contain the same exact Oral-B Triumph toothbrush, but varying numbers of brush heads, etc.]