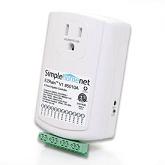 INSTEON's line of products has expanded to include a lawn irrigation system controlling up to eight sprinkler valves. The INSTEON product uses the powerline interface to deliver individual and programmed timer commands to your lawn sprinklers.
The system is INSTEON and X10 ready for PC or standalone automation controller commands and includes a free windows XP utility download allowing for easy PC programming of up to four timed irrigation programs.
Make sure your lawn and garden plants are watered with a programmable timed sprinkler system that can be set up on your PC and controlled with any INSTEON or X10 controller. The INSTEON/X10 8-Zone Sprinkler Controller is an 8-zone irrigation unit capable of controlling up to eight sprinkler valves either individually or in program sequences in response to single INSTEON or X10 command from your PC or a standalone home automation controller. This irrigation controller will work with any standard 24V AC sprinkler system (sold separately), and a free software download is available for easy programming. The Controller requires a 24V AC transformer (sold separately) to power the sprinkler solenoid valves.
Free Windows XP Control and Timer Software Download
Download the EZRain Configuration Utility below to set up zone programming and timers. This Windows XP utility is compatible with INSTEON and X10 for flexible remote programming and control. You'll appreciate the program's flexibility in setting up cost-saving, energy-efficient, and environmentally responsible irrigation systems. Best of all, the built-in powerline interface stores your timed programs, so you won't need to leave the PC on in order for the system to turn your sprinklers on and off at scheduled times. In addition to the EZRain Configuration Utility, the INSTEON/X10 8-Zone Sprinkler Controller is compatible with a myriad of home automation software, including Indigo, MControl and HomeSeer (HouseLinc support coming soon), allowing this flexible controller to be integrated into numerous home automation control systems.
Flexible Programming Options
Program the INSTEON/X10 8-Zone Sprinkler Controller to turn your sprinklers on and off at specific times at designated intervals. This will keep your lawn green without overwatering your plants. Set up to four independent irrigation programs for different zones of your yard. One valve is programmable for pump (always on) control, and separate timers are stored to prevent a valve being left on indefinitely.
INSTEON and X10 Compatible
Built-in technology makes the INSTEON/X10 8-Zone Sprinkler Controller usable immediately with INSTEON commands. Additionally, X10 compatibility and easy X10 coding allow the unit to be usable right away with any X10-supported package. The INSTEON/X10 8-Zone Sprinkler Controller will also act as a repeater of powerline INSTEON signals, and it even contains a pass-through outlet on its face for other AC devices, so you won't lose an outlet when you plug this irrigation controller in.
More Details on the INSTEON/X10 8-Zone Sprinkler Controller
Price: $124.99
(Please note prices are subject to change and the listed price is correct to the best of our knowledge at the time of posting)