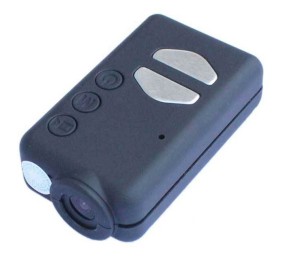 Not too long ago, we reviewed the DR32 DashCam, and found a solid, compact HD video camera that's perfect for your car. Next up we have a cam that you may be able to hide completely in 1 hand, the Mobius action cam. The Mobius measures a mere 4 x 2.9 x 1.1 inches and weighs only 1.4 oz but takes 1080p HD video. Ah, technology!
Introduction and Features
Like the DR32, the Mobius can also shoot 720p video, and that can be toggled using one of the 3 buttons on the on the top. While it didn't take much time to learn what order the buttons are in and what they do, I did at first wish that the icons and buttons were colored differently from the black of the case, instead of just being stencil cut.
The Mobius doesn't have any built-in storage, but takes a microSD. It also has a mini-B USB port, a microphone and an LED indicator light.
To switch between 720p, 1080p and photo mode, simply requires repeatedly pressing the mode button and paying attention to the indicator light's color.
Setup and Results
Like the DR32, the Mobius required practically no configuration before being able to use it short of charging it up. Another feature that would be nice is a power-level indicator. To start or stop recording was simply a matter of hitting the shutter button.
The Mobius came with a small, almost flat half-case  if you will, that the Mobius slid snugly into. That holder has a standard ¼" photo mount so I was able to screw that into the same mount I used for the DR32. I shot some video in my car, as well as walked around waving it  around with abandon. Watch my video below to see the examples.
The first part of the video was me driving around dawn while listening to a podcast on my SpeeCup. As you can hear, the audio is nice and clear, and the video itself is still and clear. The other video was me waving it around one night and not trying to be careful about what I shot. This I felt was more representative of the 'action' description of this camera! You should judge for yourself of course, but I was impressed at how well it transitioned throughout those quick movements without being jagged or blurry.
At 1080p, the 120° wide shooting angle meant that you didn't need to worry too much about capturing what you wanted as long as the camera was pointed vaguely at your target. This wasn't true at 720p as the angle was much narrower.
Conclusion
If you're not quite in the market for a dash cam, want something that slips easily into your pocket and shoots great video even with lots of movement, the Mobius fits the bill. You can pick up the Mobius for $90 on Amazon.
(Disclaimer: Gizmos for Geeks received a complimentary review copy of this product, thanks to SpyTec Inc.)