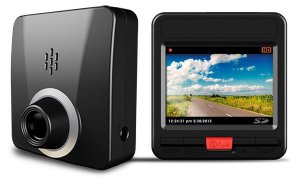 If you live in Russia and drive a car, there may be a higher-than-average chance that you have a dashcam (video camera in your car) and that it's running all the time. Well so goes the stereotype at any rate! But if you're in the market for a dash cam, read on for our review of an excellent video camera, the DR32.

Introduction and Features
The DR32 is a 1080p video camera that can be mounted via a standard ¼" photo mount to a self-adhesive windscreen attachment (included) with a ball bearing allowing full freedom of movement so that you can rotate the camera to face any angle you'd like. While not difficult to adjust, it stays firmly in place. You'll even notice me adjusting it in the video.
The DR32 does require that you plug it into your cigarette lighter via a USB cable. This has its pros and cons. On the one hand, it turns on automatically and starts recording when you turn the car on. On the flip side, you can't use that cigarette lighter to power something else like your phone.
There's no onboard storage, so you'll need to buy (up to) a 32 GB micro SD card (not included). Make sure it's at least SDHC and you may also want to get one with a USB adapter reader, so you can plug the card into your computer to view/copy the videos. If you plan to use this on a regular basis, then you should opt for as much storage as you can buy, because at 1080p, 1 minute of video takes up almost 100 MB. You can opt to change the video format to 30 fps 720p to reduce the video size.
One additional surprising feature is the inclusion of an HDMI 1.3 output.
Setup
I was pleasantly surprised at how easy it was to set up this camera. Without reading any of the instructions, I had the camera up and running within 10 minutes. There is a locking mechanism to keep the micro SD card in place and let the camera know it's ready. I did notice a few times when I did not insert it firmly enough, the camera gave me an error.
Without adjusting anything else, I started my car up and it started recording. The 2.4″ LCD display showed both the image and the fact that it was recording. Note that the camera records in 5 minute chunks (it automatically stops and starts new clips). This is probably due to the size of the resulting videos and the ability for you to quicker narrow down the clip you need without having to edit a lot of video.
Results
I shot a bunch of video and put together a composite video showing clips from the day, at night and in a dimly lit parking garage. You can see for yourself how clear and stable the video is, especially on the freeway motoring at 65 mph. And even at night, while you can't make out every little detail, if stuff is happening directly in front of your car, this cam will help you make your case.
You'll have to believe me when I say that the video quality is much better than what you see in the YouTube version. The video is saved in the common AVI format which makes it easy enough to view or manipulate on a PC or a Mac, and includes the requisite date and timestamp.
Conclusion
The DR32 is a solid dash cam that shoots fantastic video that is still and clear. There are some minor downsides like no included SD card, or software to assist with managing video on the card, but in the grand scheme of things, those are very minor. If you're in the market for an auto dash cam and have the budget (about $135), you can't go wrong with the DR32.
(Disclaimer: Gizmos for Geeks received a complimentary review copy of this product, thanks to SpyTec Inc.)