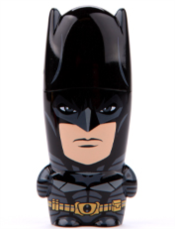 Here's your chance to win one of three (3) stylish USB thumb drive designed like a DC superhero. Design house Mimoco marries consumer electronics with pop culture among other things and is known for many products, including their Mimobot line of USB flash drives.
Apart from the famous comic book superheroes like Superman, Batman and the Flash, they also make drives with characters from Star Wars, Star Trek, Transformers and South Park and many other pop culture sources.
Hit the jump to find out how easy it is to enter…
Entering is simple:
1. just talk about this contest somewhere – Facebook, Twitter, Google+, your own blog, etc. with a link back to this post. Here's a nice short link for ya: http://wp.me/pUvFe-33h
2. Then leave a comment with a link back to your post. Be sure to include your real email address so we can contact you if you win!
We'll run this contest until Saturday 26 October 2013 at 11:59 AM Eastern Time, then we'll randomly draw 3 winners!
If you win, you'll get to pick any of the DC superhero characters on this page in an 8 GB size.
Please do read our contest and giveaway rules (yep, the lawyers make us include these!). If you win, you'll need to tell us your first and last name, your email address, mailing address and the Mimobot you'd like.
Be sure to follow us on Facebook, https://www.facebook.com/GizmosforGeeks, and on Twitter, @gizmosforgeeks.
And last but not least, a big thank you to Mimoco for sponsoring this giveaway!