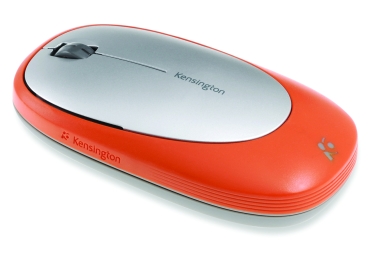 I got a chance to take a look at a new mouse from Kensington, the Ci75m, that is one of a revamped line of mice and I/O products. It is geared to the 'light' traveler, not necessarily a road warrior. I didn't expect to have a lot of great things to say about a mouse, but I was pleasantly surprised. Read on to find out more.
Unpacking and Installation
I unpacked the mouse and AAA batteries (included – nice!) in under a minute thanks mainly to it not being a blisterpack. It was packaged in see through plastic, so the product was shown off, but it was a simple operation to open up the box. Kudos to Kensington for this decision. Once I got to the mouse, I discovered a rather nice feature – there are no screws or tabs or prying apart needed to open up the mouse to install the batteries. The top is held to the bottom with some strong magnets. I just held the bottom in one hand and pulled straight up from the bottom. Voila! The batteries go right in.
Like many other Kensington wireless portable mice, the wireless transceiver is embedded in the bottom of the mice and all it took was a light pull with my finger to unsnap it and plug into my computer's USB port. My Windows XP Pro box immediately detected and installed the mouse. I was up and running in 15 seconds after plugging in. I only made 1 tweak – I slowed down the default pointer speed.
Ergonomics & Style
The Ci75m isn't so small that my hand dwarfs it, and it becomes uncomfortable, but at the same time, if you're going to be sitting at a desk all day long, then you probably need something more ergonomic, as this is meant for the traveler. But who knows – perhaps you may like the style enough to use it as your regular mouse. It's light without being so light that it feels like you could end up swiping it clear across an airplane.
Speaking of style, the new line of mice comes in a few non-traditional designs and colors, including a rouge that has a bubble pattern on it and a silver that has an understated swirl pattern. I received a Ci75m that is silver and bright orange. It is shaped like a well rounded thin bar of soap at approximately 3/4″ thick, 4″ long and 2.5″ wide. While that doesn't like a great analogy, it is definitely a departure in form from the typical rounded mouse, and makes for a cool look. Keep in mind that this thin shape is a benefit for a traveller that doesn't have a lot of room for yet more 'stuff' in their laptop bag.
Wired Operation and Other Features
The feature that I feel would really be the biggest selling point of this mouse is the embedded cable that can be unwound and plugged into the wireless transceiver in the event that your batteries are starting to run low or you just wish to go wired. After all, how many times have batteries died on you at the most inopportune times, and who carries spare batteries with them? The cable is nicely tucked away inside the mouse and again as with the batteries, you can easily get to it by pulling apart the magnetically sealed top and bottom.
Rounding out the features, there's an automatic sleep state that conserves power when it's idle and it has a solid 5 year warranty.
Conclusion
This is a great mouse for the traveller. I'm not even sure why Kensington is saying it's for the 'light' traveller – I think any road warrior can benefit from this mouse. It's sharp looking, is wireless and has the great wired feature. I highly recommend it.
These new mice will be available in late June at Amazon, Apple stores, Best Buy, Circuit City, Comp USA, D&H, Fry's and online at Kensington.com.The Ci75m is listed at $34.95.
Overall