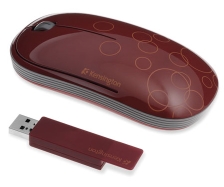 Kensington announced 6 additions to its Ci line of mobile computing accessories (aka mice and keyboards). These are part of the new Lifestyle Collection, which is a new take on a mainstay of the computing industry, with style coming more to the forefront to complement form and function. Geared to the traveller, the Ci Lifestyle products feature thin designs, back-up power and sleep states.
The Geeks got a sneak peek at and did a review of the Ci75m Wireless Notebook Mouse.
Take a look at the Press Release for images and more in-depth descriptions.