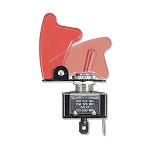 These "military-style" covered switches give your PC that "all-business" look of a jet fighter or top-fuel dragster while they control your PC case lights. They are a great finishing touch for custom cases and mods. Often used in space-limited locations such as airplane cockpit and submarines Rugged spring-loaded design provides protection against accidental actuation. Oh come on, you know you want one.
Features:
Single pole, single throw (SPST), heavy-duty, on-off toggle
All motor-rated, heavy-duty toggle switches rated to 20A, 277 VAC
UL listed and CSA certified
Recommended mounting hole: 1/2″ diameter
Also comes in blue, green and yellow.
Price: $9.95
(Please note prices are subject to change and the listed price is correct to the best of our knowledge at the time of posting)