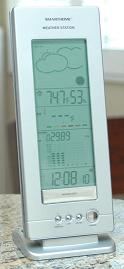 Here's an attractive piece of electronics to grace your kitchen or living room. Useful too. It's a wireless weather station that displays the indoor and outdoor temperature and relative humidity, and with its built-in accurate local weather tendency indicator, you'll be able to see at a glance whether it will be sunny out or if there's rain in the forecast. It gets its time via radio signals from the U. S. Atomic Clock in Boulder, Colorado, so you know it's accurate.
Here are some other weather station type 'things' that you may be interested in: Oregon Scientific Weather Station and Ambient Devices 5-Day Weather Forecaster.
Just to throw in some extra features, it has a built-in alarm clock with snooze, and only takes 2 AAA batteries.
Features:
Connect included wireless temperature sensor within 100-foot range
Displays animated weather forecast and barometric pressure trends
LCD display unit accesses U.S. Atomic Clock in Colorado for ultra-accurate time
Price: $59.99 (on sale currently)
(Please note prices are subject to change and the listed price is correct to the best of our knowledge at the time of posting)