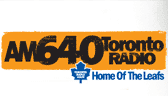 So there I was… waiting in my seat before takeoff on the flight back from CES '07 and Toronto 640 called and asked for an interview on their Sunday show about our CES coverage and the iPhone. I agreed and went on air for the first time on January 14th.
Apparently I did ok because they asked me back last week and in about forty-five minutes I will go on for the third time. Here's the show lineup for the day.
3:30 Doug Felteau – Chief Gizmoteer with GizmosForGeeks.com. This week, Arlene & Doug chat about the future of video, including the war between HD-DVD's and Blu-ray Discs. Also, a look at Video-On-Demand and where it's headed in this technologically-hooked society.
I have been recording the sessions and will make available on Gizmos for Geeks soon. Consider that our weekly podcast!