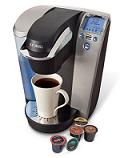 40 seconds until heaven…
After inserting a pod looking pre-measured K-Cup full of freshly roasted Arabica beans and pressing a button, it only takes the Keurig B70 Gourmet Brewing System 40 seconds to create a cup 'o joe.
With an increased 60 ounce water reservoir, lazy geeks like myself don't have to refill the water supply after every cup or two but we can wait for 5 to 10 cups before having to refill. This top of the line model also supports cup sizes from 6 ounces up to 12 ounces for those caffeine needy people.
Finally, with programmable on/off support, you can decide to wake up to the smell of caffeine in the morning… much more soothing than those darn noisy alarm clocks.
With this new at-home single-cup brewing system, you can insert a pre-measured K-Cup® of freshly roasted, freshly ground premium Arabica bean coffee, push a button and — in just 40 seconds — you'll have a delicious fresh-brewed cup, ready to enjoy…without any prep or clean up! Just fill the new, larger 60-oz. removable water reservoir and set your brewer to remain on and always ready to brew. You can select 6-, 8- or 10-oz cup size; or the new 12-oz. cup size that is exclusive to this top-of-the-line model.
Only Keurig® brewers have the patented, state-of-the-art technology that precisely controls every step of the brewing process — water temperature; water pressure; brewing time; grind; quantity — to ensure consistently excellent full flavor. The operation is amazingly quiet too.
The K-Cup containers are nitrogen-flushed and sealed to keep out air, light and moisture, ensuring no loss of freshness; each K-Cup is a mini-brewer and contains its own high-quality filter paper. Your purchase includes a selection of 18 K-Cups to get you started; more K-Cups are readily available online or by phone in over 100 varieties of coffees, teas and cocoas.
Features include programmable on/off; adjustable water temperature; large LCD with blue backlight; and a removable drip tray for accommodating a taller travel mug. To brew one cup just as quickly using your own ground beans, order the stainless steel mesh K-Cupâ"¢ Reusable Filter Pack (KU002, $14.95). System has a platinum finish with chrome accents; it measures 12″ x 10″ x 13″ and weighs 15 lbs. Plugs into a standard outlet. One-year warranty.
Price: $199.95
(Please note prices are subject to change and the listed price is correct to the best of our knowledge at the time of posting)