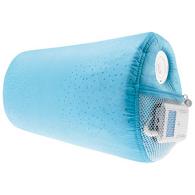 Yet another accessory trying to cash in on the iPod/mp3 player craze, the iPillow is a simple enough idea: put some speakers in a pillow with a cable hookup for your iPod. So now you've got a boom box that you can lie on. Actually, the cylindrical design makes it a pretty good place to rest your neck. The iPillow is rated to work with iPods, iPod Shuffles, iPod Nanos, and Creative Zen. I imagine that as long as your mp3 player has a standard portable headphone jack, it'll probably be compatible.
Features:
The iPillow portable MP3 speakers work with any MP3 player.
Use with Creative® Zen, iPod®, iPod® Shuffle™, even iPod® nano.
A zippered mesh MP3 holder keeps your MP3 player secure but available.
3″ speakers deliver rich stereo sound.
Large rotary volume control for easy adjustments.
Uses an AC adapter (included) or six D batteries (not included).
Price: $75.00
(Please note prices are subject to change and the listed price is correct to the best of our knowledge at the time of posting)