Update 12/19/2012: We have some winners! Congrats to Sara and Katie. Their brand new bags are on their way to them. Thanks to everyone who entered and thanks again to Altego for sponsoring this giveaway!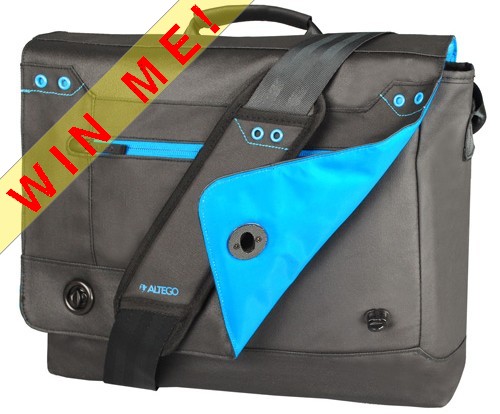 Win 1 of 2 brand new Altego Canvas Cyan Laptop Messenger Bags! We have a brand new giveaway for the 2012 Xmas season! We have not 1, but 2 beautiful 15″ Canvas Cyan laptop messenger bags from Altego. We recently reviewed the backback version of these bags and loved it. You'll love it too.
The messenger bag (pictured) has a soft quilted lining for keeping your 15″ laptop safe and sound, as well as another padded pocket for an iPad, metal self-locking buckles, a waffle backing to keep your back comfy, and it's water resistant to boot. For more info and photos, you can hit Altego's website.
Entering is simple:
1. just talk about this contest somewhere – Facebook, Twitter, Google+, your own blog, etc. with a link back to this post. Here's a nice short link for ya: http://bit.ly/gfgbags.
2. Then leave a comment with a link back to your post. Be sure to include your real email address so we can contact you if you win!
We'll run this contest until Monday 17 December 2012 at 11:59 Pacific Time, which gives us lots of time to get the bag shipped out to you in time for Christmas, then we'll randomly draw 2 winners!
If you can't wait to find out if you'll win, you can pick one up right now from Amazon.com.
Please do read our contest and giveaway rules (yep, the lawyers make us include these!), and keep the basics in mind: you need to be over 18 and have a U.S. mailing address.
Be sure to follow us on Facebook, https://www.facebook.com/GizmosforGeeks, and on Twitter, @gizmosforgeeks.
And last but not least, a big thank you to Altego for sponsoring this giveaway!