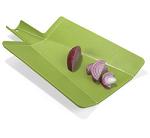 Our fellow geeks over at Kitchen Contraptions suggested that we feature the Folding Cutting Board as a gizmo of the day. We agree that this simple design is just a good idea.
The edges automatically fold upwards when the cutting board is lifted off the countertop allowing you to easily "pour" what you have just chopped into a baggie, pot or pan. Having made Valentine's dinner for my wife and chopping up various food items such as garlic (that I'm sure we will continue to find for weeks around the kitchen), I would have loved an easier way to transition the chopped food to a pan. At least I don't have to cook again until next year!
Designed by Mark Sanders, 1989, a wonderfully innovative kitchen tool, the outer portions of this cutting board automatically fold upward when it is lifted off the counter to help guide chopped food into the pan. The board is made of polypropylene; a durable yet flexible material that allows the integral hinges to snap between being locked flat for cutting and locked into a chute for "pouring." A patented cross hinge manages the lockout and snap action. Microwave and dishwasher safe.
Price: $12.00
(Please note prices are subject to change and the listed price is correct to the best of our knowledge at the time of posting)