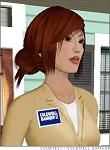 CNN reports that Coldwell Banker has entered the 3D virtual world marketplace selling and renting virtual properties in Second Life. Coldwell Banker opened a virtual sales office at 9am this past Friday.
Buying extensive tracts of property on the central "mainland" of Second Life, Coldwell Banker will subdivide this digital land into 520 individual houses and living units. Half of the houses and units will be sold and the other half will be rented. Most companies own "islands" scattered all over the world, but Coldwell Banker followed the real estate motto "location, location, location" by setting up shop on the central mainland.
Perhaps the less than stellar real world housing market has Coldwell Banker looking for new revenue streams…
Read the entire article on Money.CNN.