One of our most popular subjects continues to be converting VHS tapes to DVD or other digital formats, and one particularly popular product is the all-in-one Panasonic DMR-EZ47V DVD & VHS recorder. Sadly, that Panasonic product, though still wildly popular is showing its age, and now that it's hard to come by, indie vendors are price gouging. What once cost under $300 is now over $450! So we decided to take another look at this product niche to see what other options exist.
Only a few big-name vendors like Toshiba and Magnavox still seem to be in the game of making these combo DVD/VCR recorders. Here are 2 products that we found that felt were worth your time considering: 1 each from Toshiba and Magnavox.
Toshiba DVR620 DVD/VHS Recorder
This Toshiba (approx $157) all-in-one bills itself as a one-touch recorder. So pop in your VHS tape and your blank DVD, hit a button and wait. But it actually can go the other way (2-way dubbing) and record from your DVD over to VHS. Why you would want to do that beats me, but there you go 😉 It even lets you edit the title lists that DVDs are able to store, so you can break up that monolithic VHS tape into meaningful sections.
But although VHS tape conversion may be your main goal, this unit can do much more including playing those DVDs back on your TV, via HDMI if you'd like as well. It can be used to record TV, but you'll need an external tuner (like your cable box).
Additionally, the DVD player will also play CDs with MP3 or WMA (Windows Media Audio) audio tracks and display JPEG photos/images. It will also upconvert to 1080. [What is Up-Conversion?]
Here's a link to the manual if you'd like to get every single last detail on this model.
Magnavox ZV427MG9 DVD Recorder/VCR Combo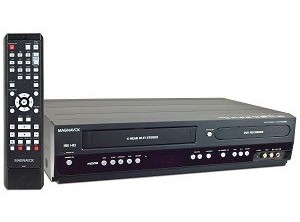 This Magnavox (approx $210) is also very popular and offers many of the same features as the Toshiba above, but at a slightly higher price (approx $210).
It has 2-way dubbing (VHS to DVD and vice-versa), is able to playback audio CDs with MP3s, CDs with Kodak Picture, offers theater surround sound when using a Dolby Digital decoder. It offers extensive editing of DVD titles, chapter marks and even setting thumbnail pictures.
And like with the Toshiba, you can record from an external source (like your cable box).
Here's the manual [PDF].
Conclusion
These both appear to be 2 solid models if your main aim is to permanently retire your VHS tapes. If I had to pick, I'd go for the Toshiba, as it seems to have as many if not more features and at a lower price.
Unfortunately, this product category is in decline since the death of VHS tape, and there aren't any new products being made, which explains why the pure converter manufacturers have been able to take a foothold. Companies like Elegato, Honestech, Hauppage, and AverMedia make small hardware converters that typically perform analog to digital conversions and usually come with software for further tweaking the inputs and outputs. For example, we've reviewed the excellent Honestech VHS to DVD.
Yes, these are much more DIY-styled products that require a bit more assembly and some basic computer skills, but they do tend to be cheaper than one of these all-in-one VHS-DVD recorders and they also tend to accept and convert to many more formats including audio. They are definitely worth considering as well.