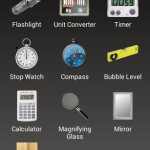 The app world for Android (and iPhones/iPads) is ever-changing, so don't be too annoyed that this is still yet another list of apps. This list is on the practical side of life, so you should find at least one in here that'll be of some use to you. Personally, I use ColorNote myself at least daily.
Here is a free app that will help you become more organized. You can color code your notes (or lists) to keep track of them more easily. There are widgets to display them in your launcher and reminders can be configured to remind you either once or on a recurring basis.
Do you do a lot of typing on your mobile device? If so, you may like this keyboard app best out of the all the rest. It is a touch keyboard that thinks for you. When you hit a key, the nifty keyboard on this app will calculate which keys you are likely to use next and shrink down all of the other keys so that your choices will be larger in size and easier to use.
This is definitely an app you should have if you travel frequently for business or pleasure. It helps you to track your flights and perform rerouting if there are any cancellations or delays in your travels. Another nice feature is that it gives you a weather report for your destination so you will know what to expect when you arrive.
You can create your own personal newspaper with this app. The headlines and items that you choose to have featured will appear side by side just as though you are reading a newspaper. This is a great way to keep up with current events. Another great option is Zite.
With this inexpensive app, you can print to a Bluetooth-enabled or wireless printer directly from your Android device without the need for a PC.
Here is another free app that can come in very handy if you find yourself in need of certain tools such as a flashlight, ruler, level, stopwatch or compass.
With any or all of the apps mentioned above, you can make your Android device even more of the smartphone it already is.