Our homes are our castles and, it's fair to say that we love to fill our castles with technology and gadgetry. While there is a myriad array of gadgets out there that you can get today, today we figured we'd give you a quick look at three (3) that we feel are particularly cool.
The Floor Plan Light Switch
While only a concept idea, the contemporary-styled Floor Plan Light Switch by Taewon Hwang lets you control the lighting in your home from a single switch, with each room in the home represented on the floor plan shaped light switch.
How many times have you left a light on upstairs just as you're rushing out the door for work and don't have time to switch it off? No more running back upstairs or the other side of the house to turn it off to save on electricity. Here's to this being produced!
Hi-Can Bed
Considering how much of our time we spend in bed, why not have an epic bed like the amazing Hi-Can bed? This luxurious and endlessly stylish new take on the 4-poster bed is a great choice for a contemporary, modern style property and, fear not, it has plenty going on to keep the technology lovers happy.
Its gadgetry includes remote controlled blinds, a built-in HD projector and a high spec audio system. Italian designed and ultra-modern in style, it isn't cheap and will set you back about $55,000. You also get an adjustable mattress, built-in multimedia PC. Safe to say, getting out of bed in the morning just got a whole lot harder!
LiGo BlueWave Mobile Hub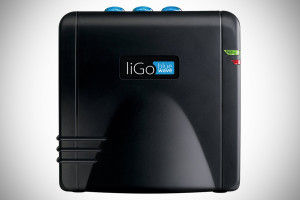 Here's the problem – you've got near-zero cell signal in your house. But you've got one or more traditional handsets (cordless is also fine). If you got a LiGo BlueWave Mobile Hub, you could route those incoming mobile cell calls through to the handsets, and if you have multiple ones, then they would all ring. Now you don't have to walk around the house all day with your cell. Just leaving it charging near the LiGo.
The opposite is also true – you can make calls from your traditional handsets wherever in the house and route them out as cell phone calls. The BlueWave connects to up to 3 cell phones via Bluetooth. You don't need a landline, but it doesn't matter if you have one; you'll still be able to route calls from the handset via the landline connection.
So no more trying to find that perfect sweet spot in your house where your cell works and trying not to move your body or head too much!
The LiGo BlueWave costs £100 (US$150) and consider this: you can also kill off your landline  and use your cell exclusively, so in the long run, you could save money. The BlueWave is pretty easy to set up. Take a look at the video below:
Find out more about the BlueWave at LiGo Cordless Phones.