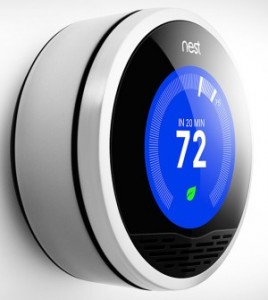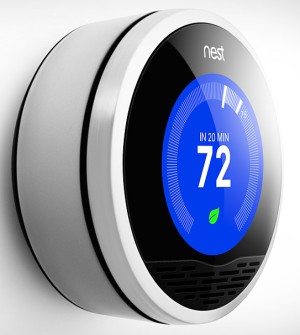 While there are not any flying cars and no one is living in apartments on the moon, the modern smart home is an impressive technological creation. Whether you are looking for ways to automate your home for energy savings or simply for convenience, these 10 tech gadgets will add smart functionality to any home.
1. Nest Learning Thermostat
The Nest Learning Thermostat automates your home's climate control based on your schedule, preferences and built-in optimization software. Within a week, it will learn your routines and ensure your home is comfortable with minimal interaction. Wi-Fi integration also makes it possible to monitor your home or make changes from anywhere that you have Internet access.
2. Belkin Conserve Socket
With a simple push of a button, the Belkin Conserve Socket helps to reduce power consumption. This automated timer allows you to automatically power off any device with a standard electrical connection after a set duration.
3. SmartLinc INSTEON Light Control Kit
This simple plug-in kit allows you to control the lighting in your home from anywhere that you have Internet access. Two dimmer switches are included for in-home control as well.
4. Smartphone or Tablet
From controlling your set top box to controlling an entire home theater, there is a wide array of apps available for both iOS and Android to control the electronic devices in your home. For more options, consider an IR blaster for your smart phone, such as the Surc.
5. INSTEON Hub
The INSTEON Hub is your gateway to controlling your smart home. Adapters and accessories allow you to expand to system to virtually every device in your. Controlling these items is as simple as picking up your smart phone or signing in to your computer.
6. Logitech Harmony 1100
With a 3.5-inch display, support for over 200,000 devices and a user-friendly interface, the Logitech Harmony 1100 makes it easy to control many of your smart home gadgets. Enhanced control capabilities are available by using an IR to X10 to IR to INSTEON adapter.
7. Wireless IP Camera
From advanced motion-based notification abilities and panning to two-way audio and high-quality night vision, a wireless IP camera makes keeping an eye on your smart home as simple as loading up a website. We reviewed one from Smarthome and really liked it.
8. TrickleStar Motion Sensing Power Strip
From the current detection switches to the proximity sensor, this power strip offers plenty of ways to save money and automate your home. Connect your home theater to the current detection switches and enjoy automatic power control with just one device. Yours for under $50. If you don't really need the motion detection, TrickleStar makes lots of other energy-saving power strips.
9. Sensaphone 400
The Sensaphone 400 combines nearly every monitoring and security need into one easy to use device. From leak detection and smoke detection to intrusion detection and freeze warnings, this box makes it possible to monitor every aspect of your home from your PC or smart phone.
10. Ideum Platform
The ultimate smart home table has arrived. With support for hundreds of simultaneous touches, a powerful integrated PC and a 55-inch display, the Ideum touch table is the perfect centerpiece to any family room, entertainment area or man cave. From playing the latest games or movies to checking your email, the Ideum Platform takes touch computing to a new level.