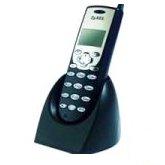 The Prestige 2000W, compatible with the IEEE 802.11b wireless standard, is a perfect solution for VoIP (voice over Internet Protocol) applications. It lets you make or receive phone calls as long as you're within range of 802.11b or .11g wireless access points. With the Prestige 2000W, you no longer have to pay expensive communication fees, and can enjoy the convenience of wireless mobility.
The Prestige 200W offers flexibility and ease of use in both land and wireless environments. This brand-new application was developed to support open-standard session initiation protocol (SIP), which interoperates with major SIP-based call servers, IP-PBXs, and various VoIP client devices. It is not only an ideal alternative for ITSPs (IP telephony service providers) to deploy their VoIP services, it can also be the wireless handset, which can be applied in a corporate IP-PBX-centric VoIP environment.
The Prestige 2000W is easy to use and configure via an LCD menu or Web browser. Moreover, with the smart auto-provisioning mechanism, ITSPs can easily deploy and manage VoIP services. Easy to use and convenient, the Prestige 2000W delivers high-quality voice functionality in a cost-effective manner.
Features:
Open-standard SIP v2 support. The call-control protocol of the Prestige 2000W is based on the SIP v2 (session initiation protocol version 2, RFC 3261) open standard, which is interoperable with major SIP-based call servers, IP-PBXs, and other standard SIP-based client devices.
Mobility with IEEE 802.11b wireless standard compliance. The Prestige 2000W is compliant with the IEEE 802.11b standard and interoperates with any existing 802.11b or .11g wireless access point and gateway. It may be used as a cordless handset by residential and business users. The small size of the handset makes it easy to transport and allows users to place VoIP calls from public hot spots.
High voice quality at a low cost. The Prestige 2000W is capable of tagging features that support a service provider's QoS (Quality of Service) planning, such as ToS (Type of Service) and DiffServ. It allows gateways or central side equipment to identify and prioritize voice and data traffic. By supporting G.711 and G.729 voice compression technology, the Prestige 2000W effectively reduces bandwidth consumption caused by voice traffic.
An enhanced power-saving design for extended standby and talk time. With an extended life for each recharge cycle, the Prestige 2000W will be available where and when you need it.
Optional support for direct IP-to-IP call and ad-hoc intercom modes. By configuring a remote IP address in the built-in phone book, the Prestige 2000W provides direct IP-to-IP calling when there is no intermediate SIP proxy server available. The Prestige 2000W can also establish an ad-hoc 802.11 (computer-to-computer without access point) network, which allows users to use the handsets as wireless intercoms.
Price: $251.99
(Please note prices are subject to change and the listed price is correct to the best of our knowledge at the time of posting)