The newest edition to X-Arcade's arcade joystick lineup, the Tankstick, includes two complete arcade joystick and button arrangements as well as a center Trackball for retrogames like Centipede and the arcade Golden Tee series. A couple years ago my wife surprised me for my birthday with X-Arcade's Dual Joystick which I really enjoyed… see if the new flagship product, the Tankstick, stands up to the reputation of X-Arcade's other products.
X-Arcade began as a three-person company by Shawn Walters whose plan to inject authentic arcade-experience into the home. Now, X-Arcade has become synonymous with retrogaming and has become a leading game accessory brand in the major markets worldwide with customer's including professional athletes, celebrities and geeks everywhere looking for the look and feel of a real arcade.
The latest addition to X-Arcade's arcade lineup is their new flagship product called the Tankstick. The Tankstick is 20 pounds of authentic arcade parts ripped from a real arcade machine and includes a lifetime warranty because this product has been built to last. The Tankstick dwarfs the Dual Joystick model (without a Trackball) allowing for additional room between players and assures the panel will not move even under the most active of arcade gamers.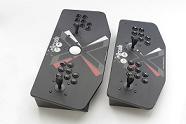 The Tankstick provides PS/2 and USB support out of the box and add-on adapters will work on any console system; however, there is no console support for the Trackball. The lack of Trackball support for console games is unfortunate but definitely not a show-stopper most console games cannot use a Trackball anyway (the Trackball does work with XBOX's Quake2X and XBOX Linux as well as USB mouse support for PS2).
Connecting the Tankstick to a PC is as simple as plugging in a couple of USB cables, loading MAME with the retro arcade games and go for the top spot. There are several ways to connect the Tankstick to your PC using USB ports or PS/2 ports. If you can plug in a mouse or keyboard, you can plug in a Tankstick. Connecting to a console is different and requires a console adapter which is connected to a serial cable.
For some games, you might need to modify the button assignment to the action or functions needed, especially if the game does not have an option to use the keyboard keys you want to use. The Tankstick allows you to do so wuth 4 memory banks. Mode 1 is the factory programmed mode that cannot be changed but should work a majority of the time. Modes 2 through 4 are fully programmable and can be overwritten as many times as you need.
The X-Arcade Tankstick includes 4 left/right pinball flipper buttons, 8 buttons in classic Street Fighter style and an American-styled baseball bat shape capable of 4-way and 8-way sensitivity joysticks per player, player 1 and player 2 buttons, the Trackball in between the players buttons and joystick, and a programming and horizontal disabler on the back panel. Wait… what's a horizontal disabler you ask? It's the ultimate cheat for Trackball games. By holding this button down you disable left and right movement on the trackball… stop your slices and hooks on the virtual golf course!
You can purchase the Tankstick from X-Arcade for $199.95.
Overall

X-Arcade's reputation for authentic arcade gaming rigs is intact. There are a couple of products and brands that the Geeks are quite fond of and X-Arcade products happen to be one of them. The X-Arcade products are built from authentic arcade parts and the latest product, the TankStick, definitely feels and plays like the real thing. Well played X-Arcade… well played.