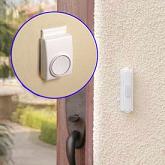 Another inexpensive, but totally useful, what-did-I-do-before-this? gadget. It's a wireless doorbell chime. Mount the doorbell at the front door, and it transmits to a receiver up to 100 ft away which can be placed anywhere you'd like in the house. Never miss hearing the doorbell again. Read on for still more doorbell gadgets that are variations on this theme, in case you have different doorbell needs.
If your location doesn't have a power outlet, then you can get the battery-operated Wireless Chime.
What if you have a front door and back door that are both visited? Then you can get the 2-Entry Plug-In Wireless Chime. This system comes with two transmitters and a single plug-in chime that rings different tones to indicate where your guest is.
Features:
Wireless transmitter mounts outside your front or back door
Plug-in door chime announces visitor anywhere in the home
Up to 100-foot range allows for flexibility in placement
Price: $21.99
(Please note prices are subject to change and the listed price is correct to the best of our knowledge at the time of posting)