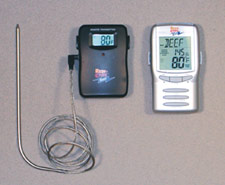 Most do not possess my Jedi Grilling powers of knowing exactly when to pull the steaks to assure they are perfectly cooked to specifications (nothing like a top sirloin with a nice pink center). In cases where you've overcooked or underdone meat on the grill, today's gizmo is for you!
The final gizmo in the Memorial Day Weekend series on grilling is a must have for grilling newbs and grillmasters alike. Nothing is worse than the anticipation of a cookout, firing up the grill and grilling only to overcook the steaks (or uncook the chicken!).
This unit makes a great gift for anyone that enjoys outdoor cooking! So whether you're the reigning barbecue expert with a reputation known across three states, or a soon-to-be BBQ expert who can use a little more seasoning (no pun intended), you'll love the results you get from this high-quality cooking tool!
Price: $39.95
(Please note prices are subject to change and the listed price is correct to the best of our knowledge at the time of posting)