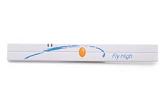 Does your wireless network only work in close range to your router? Extend your WiFi network without purchasing an expensive repeater. You'll save money and electricity with the same results by installing the WiFi USB Super Antenna, which will let you access your wireless network from anywhere in the house or on your property, up to a mile away. This high-gain WiFi antenna connects to your PC via USB; your computer doesn't even need an internal WiFi card or antenna to work!
Easy to Install WiFi Antenna
The WiFi USB Super Antenna is an up-to-20 dBm High-Gain range booster omni-directional antenna. Simply install the software on your PC and plug the cable into your USB port. Mount the antenna using the included suction cups: the 15-foot cable allows for ease of placement.
Price: $114.99
(Please note prices are subject to change and the listed price is correct to the best of our knowledge at the time of posting)