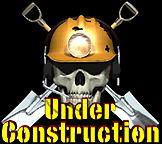 This Saturday night at 7PM Pacific/10PM Eastern, we're upgrading Gizmos for Geeks. We don't expect to be down for very long, but if you come by and our 'doors are closed', you'll know why!
The good news is you can look forward to a subtly redesigned site that is significantly faster, easier to navigate, and with some new features that will improve your user experience.
If you have any questions, or just want to wish us luck, you can always drop us a line @ [email protected].
Now cross your fingers… (We need to keep ours uncrossed while we type furiously.) 😉