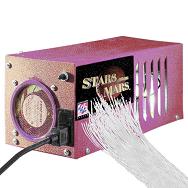 I've always been intrigued with a ceiling of fiber optic stars coming out of the ceiling and am planning on installing a starfield in my home theater being built. While I don't think starfields fit in everywhere, starfields can be installed in a bar, home theater, master bedroom or even above a jacuzzi for instance. Seems cool to bring a little faux outside inside.
This kit includes the a Fiber Optic Illuminator (which lights the fiber optic), 300 optic fibers each 20 feet long as well as 12 #60 drill bits which can cover up to 785 square feet.
Turn your den into an outdoor theater or sleep under the stars every night. The Stars From Mars® Fibre-Optic Starfield consists of 300 optical fibers that can turn your ceiling into the evening sky. Just mount the illuminator in your attic space, and then insert each of the fibres into a hole to poke through the ceiling below. Create constellations or just scatter stars around the room. One kit is enough for a 785 square-foot den or bedroom.
Instructions are laid out for one-person and two-person installation. Using the 12 included drill bits, drill holes through the ceiling for the 30ml optical fibres, which are each 20 feet long, so you'll easily be able to spread them around the room. A dab of silicon secures each fibre, which can be cut flush to the surface of your ceiling.
Integrate the Stars From Mars into X10 scenes and control it using any standard controller by plugging it into a lamp module (X10 components sold separately). The entire unit can be dimmed for adjustable atmosphere. The system is even equipped with a color wheel to produce various fiber-optic effects.
Price: $1499.99
(Please note prices are subject to change and the listed price is correct to the best of our knowledge at the time of posting)