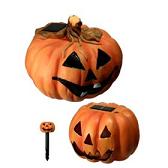 These eco-friendly Halloween decorations do not require electricity but use only solar power to light. These Halloween Decorative Pumpkin Solar Lights comes with two LEDs each to create a "flickering candle" look.
You need to just stake the decoration in the yard and when it gets dark the pumpkin lights!
Our friendly pumpkins keeps watch over the yard by day and glows orange at night His smiling face welcomes all without candles or electric cords Product Features Orange Glowing Face ON/OFF Switch. A solar panel collects sunlight for the two rechargeable batteries which is included and installed. What alll you do is stick the lights in the ground and wait for the dark! Each set come with one large pumpkin, one small pumpkin and a durable ground spike for smaller pumpkin.
Price: $32.95
(Please note prices are subject to change and the listed price is correct to the best of our knowledge at the time of posting)