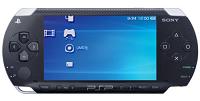 SLAPPA Distribution LLC., today announced the launch of its new SLAPPA® Playstation Portable (PSP) Storage case. The line, as described on SLAPPA's website (www.slappa.com), combines highly tactile materials and a unique design focused on secure protection, this new PSP case is a must-have for any avid gamer-on-the-go.
The SLAPPA HardBody PSP Daily Case is designed to protect your PSP from the elements while maintaining a sleek, cutting-edge look. This case features the same xEVA material featured on the award winning CD and DVD case lines, as well as rainproof zippers with rubber SLAPPA zipper pulls, storage divider, cargo storage nets, Xtra-wide elastic band for ultra-secure PSP storage and super-soft lining. This case also features a D-ring with removable carabineer clip and an adjustable Velcro storage strap for multiple transport options. "We believe the PSP is positioned to be a staying force in mobile digital devices, and as such we focused on making a case that PSP owners can trust to protect their investment over the long haul�, says Dustin Garis, Director of Marketing for SLAPPA.
The SLAPPA HardBody PSP Daily storage case is now available for preorder for only $14.99 at www.slappa.com (MSRP $19.99). Product will ship September 20.