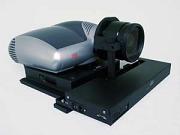 SIM2 has announced a Home Cinema "Scope" System for true widescreen theater projection using a combination of electronics processing and additional lens to display a full-width 2.35:1 aspect ration cinema without the black lines at the top and bottom of the screen.
As a home theater enthusiast, this is really cool news. So… how does the SIM2 product work?
"SIM2's Home Cinema "Scope" System corrects these deficiencies through a combination of internal image processing and external optical adjustment. By adjusting one of the projector's custom user settings, installers can set the unit's scaling to stretch 2.35:1 images vertically, cutting off the unused "letterbox" portions and using the full DMD chip resolution for image reproduction. When this image is projected through the extremely precise Home Cinema "Scope" lens, the image is then stretched horizontally in the exact ratio needed to restore the original 2.35:1 aspect ratio of the source material, providing the highest quality image possible using conventional projection systems."
The Scope system will be sold for $8995 for a manual lens system or $11995 for the automated deal including the lens and motorized sled.