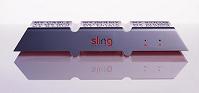 With football season officially started, the Geeks thought it was prudent to check up on Sling Media and their award-winning Slingbox. In case you don't know, Slingbox allows you to control your TV from anywhere. Rather than simply timeshifting TV watching with a Tivo you can placeshift.
Besides expanding into other markets such as Hong Kong, Sweden, Japan, UK and Canada, Sling Media has been updating software and adding more platforms where you can watch your TV.
Starting back in January, Sling Media has released or working on releasing the SlingPlayer on different platforms including UMPC, Mac, and Windows Mobile for Smartphones and Pocket PCs. In fact, if you purchase a new Slingbox through September 16th you can get a free copy of Windows Mobile SlingPlayer which is a $30 value. Unfortunately, the much anticipated SlingPlayer OSX beta is still in development.
Besides working on additional platforms to run the SlingPlayer on, there have been several enhancements to SlingPlayer including significant improvements to the algorithm offering a 300% gain in video quality as well as new remote codes and controls for Tivo DVRs, ReplayTV, Scientific Atlanta and Motorola. Also, you can make subtle changes to your input signal allowing you to adjust audio volume, brightness, contrast, saturation and hue for each input.
Welcome football season, especially if you have a football watchers favorite gizmo!