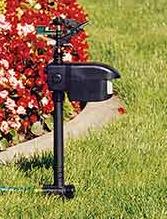 Do you have pests that mess up your yard… you know, deer, dogs, cats, raccoons, kids? Well, scare them off your property while dousing them with a burst of water! Not only is the Scarecrow Water Spraying Animal Repeller a good deterent but if you get to watch an unsuspecting kid, er, I mean pest, get sprayed you'll have a good laugh as well.
When the PIR motion detector senses motion it sprays a 3 to 4-second burst of water then resets. Spray coverage can be adjusted from a narrow 10° coverage to 360°, and the 35-foot range lets you place the Scarecrow where it makes the most sense. Effective on dogs, cats, raccoons, deer, etc.
To keep animals guessing, simply pull up the Scarecrow, move it to a different location, and turn the water on. Soon, animals won't know where they'll be sprayed from, and will be wary of entering the protected area.
Requires a 9V battery (sold separately), which powers the unit for approximately 6 months under normal use.
Price: $79.99
(Please note prices are subject to change and the listed price is correct to the best of our knowledge at the time of posting)